Just can't stop exploring about an amazing place or get an amazing place out of your head? Welcome aboard Pal, because I am sailing in the same boat right now; thanks to Blogadda! Anyways the place I am so obsessed with these past 4 days is Malaysia. (Yes you can spend some seconds singing the Malaysia truly Asia hymn, I will wait :P). Moving on, why am I obsessed? Well this is my second post of the series (this is the first one) and I just can't fathom the greatness of nature's treasure in a country that has been tagged as a megadiversity nation and holds 20% of world's animal species known to man till date. As Malaysia is a part of the Borneo forest area it has a vast number of endemic species in flora as well as fauna. So here is my list of five places in Malaysia to get you a step closer to nature. (Oh Warning – This list will only contain offbeat destinations so don't chide me about Taman Negara and Mount Kinabalu not making the top five.)
1.
Kinabatangan River – Taman Negara definitely is world's oldest rainforest, but it is not the only one. To gauge nature's power in a rainforest people visiting Malaysia can always opt for a more at ease and equally thrilling way – A cruise on the Kinatangan River. It not only lets you wonder at the dense forest and the range of flora in it but treats you with frequent sight of Asian Pygmy Elephants who love taking regular strolls on the shores of this Sabahian River.
2.
Sepilok Orangutan Sanctuary – This Orangutan rehabilitation centre in Sabah, located within the Kabili-Sepilok Forest Reserve. It not only lets you experience the wild not in the wild but lets you measure the difference between one rainforest and another very close to each other. It lies near the Kinabatangan river reserve but is a comparatively newer aka virgin rainforest, hence it has a different range of green to explore.
3.
Tioman Island – From green lets jump to the blue and not just any blue crystal clear aqua marine blue is the colour Tioman Island treats your eyes with. Tioman Island has been voted by TIME Magazine as one of the most beautiful islands of the world, that itself says a lot, doesn't it? The crystal clear water and the numerous surrounding coral reefs make it a scuba diving hub. Also the Island is densely forested and sparsely populated making it a budget adventure ground.
4.
Sipadan Island – Sipadan Island is the only oceanic Island of Malaysia and literally symbolizes the pearl of the sea phrase as it is surrounded by turquoise see-through waters and has white sparkling beaches. Sipadan is formed by living coral depositions on an extinct volcano thus making it a biodiversity nucleus. It is the habitat of more than 3000 species of fish and corals including the Green humphead parrotfish, Hawksbill sea turtle etc… . While coral reefs in Langkawi Islands are being vitims of bleaching Sipadan is conserved in the best way one can think of. Sipadan has also been rated as one of the top destinations for diving in the world by numerous dive journals and National Geographic. One of the most interesting dive locations around the island is the turtle tomb.
5.
Kuala Lumpur Bird Park and Butterfly Park – Okay, these are not really offbeat cause they are definitely covered in local KL sightseeing but these do take you a step closer to nature. 3000 birds 200 species says too much fun and just imagine a park full of butterflies. Doesn't that sound amazing! KL Butterfly Park houses over 5,000 butterflies, exotic plants and ferns and is one of the largest houses in the world.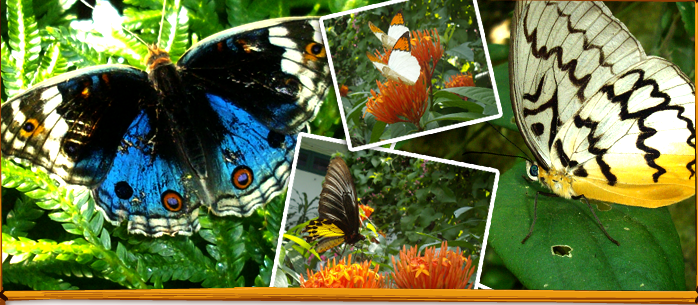 Well nature trail or nature reading ends here! Guys plan A.S.A.P and make sure you put these in your list to visit cause believe me the unbeaten path at times is the most exhilarating path to be on. T
erima Kasih (Thank You for reading my post) and P
ercutian Happy (
Happy vacations)!
P.S.- Photo credits Google.com